From beginner beading kits to blankets, presents from Indigenous-owned business tell a story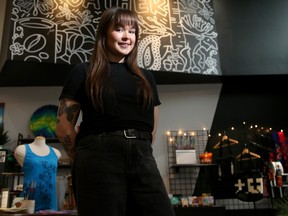 Article content
"Shop local" has been the mantra for mindful shopping for years.
Article content
But a wave of Indigenous-owned businesses has added another dimension to the retail scene with ways to both buy and learn something new this holiday season.
Article content
Read on for ideas for unique gifts and shopping excursions the mall can't match.
Beandigen Cafe
Head to Beandigen Cafe at Lansdowne Park (106-900 Exhibition Way) for gifts to unwrap and experiences to unfold.
Jayde and Paula Naponse recently celebrated a year in businesses as much more than a coffee shop. The mother-daughter duo offer beading and silkscreening workshops, host cultural events and highlight work by Indigenous artists and makers.
A Winter Solstice market with artists is Dec. 21.
Jayde Naponse suggests gifting an introduction to the art of beading with a kit by Delia Estelle Designs ($35). Ottawa-based Stephanie Peltier creates spectacular Ojibway beadwork worn by the likes of Sophie Grégoire Trudeau but also makes well-put-together kits with clear instructions for beginners.
Article content
Beandigen also stocks watercolours from Beam Paints that are handmade on M'Chigeeng First Nation on Manitoulin Island. They're made of quality pigments with packaging made from lumber offcuts. Offerings range from paint-by-number cards of butterflies ($22) to full palettes ($55 to $75).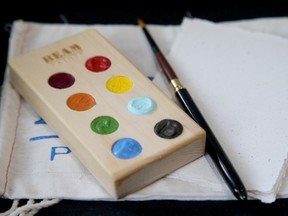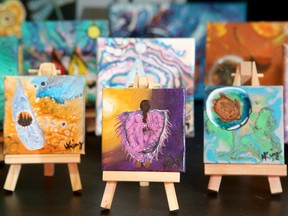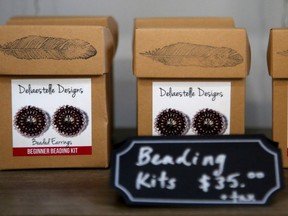 Among a range of artworks are colourful works from Ottawa artist Holly King, from tiny canvases (starting at $40) to larger works and calendars. Also find stained glass, earrings and ready-made beadwork and sealskin products by Inuk artists.
Perhaps the ultimate stocking stuffers are the vibrant scrunchies ($10) but also bows and scarves from Kokom Scrunchies, from creator Mya Beaudry, an 11-year-old from Kitigan Zibi Anishinabeg First Nation.
Article content
Or take home some of the locally-roasted coffee Beandigen serves, including the blends Out on the Land, Coffee with my Aunties and Pow Wow Love.
"The most important part about the coffee is that it's the first draw — Beandigen means welcome," said Naponse, who's from Atikameksheng Anishnawbek First Nation near Sudbury.
New customers will come in, order a coffee, start staring at the art as they drink it — and then get up for a closer look.
"That one little glance, one little exposure and then you're off to the races in terms of learning, in terms of understanding," Naponse said.
"And that's kind of why we wanted to have coffee. It kind of bridges the gap between a lot of people who wouldn't necessarily walk into an Indigenous art store."
Article content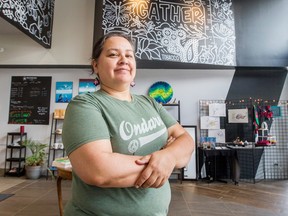 Adaawewigamig
The Assembly of Seven Generations (A7G) opened Adaawewigamig — ​a place of selling or trade in Anishinaabemowin —  at 55 ByWard Market Square in June with a Summer Solstice block party.
The shop is a social enterprise for the non-profit focused on cultural support and empowerment for Indigenous youth based on traditional knowledge and with the guidance of elders.
Find products including Kokom Scrunchies, Beam Paints, Kaapittiaq Coffee, Tea Horse Teas, Ocean Kiana, Métis Branded, FN Clean Water, Roberta Anderson Designs, Native Love Notes, Foxy Beadwork, Wolf and Crow Studio, Cedar Canoe Candles, toques and soaps made by the youth.
The soaps ($10) would make great stocking stuffers with scents including Moosehide, Mitigog (or forest) Holiday Cookies and Kokom's Cold Remedy, A7G co-founder Gabrielle Fayant said in an email.
Article content
"We really invite folks to come into the store every few week and see what we have to offer," she said. "Our products are always changing."
MINI TIPI
Gifts don't get any cosier than the offerings of Gatineau-based MINI TIPI.
Trisha Pitura, a member of Nipissing First Nation, and Mélanie Bernard turn motifs designed by Indigenous artist into blankets, shawls, ponchos for kids, mittens and bags ($45-$289).
Pitura, a recent winner of an Indigenous Entrepreneurship Award from Pow Wow Pitch, and Bernard started their business in their basements but jumped into manufacturing in 2021, moving into a 7,000-square-foot warehouse in Aylmer. They now have 10 employees.
As the company grew, the duo adopted fabrics made of recycled wool and polyester to reduce their environmental impact and continued giving back to causes including women's crisis centres and food banks.
Article content
Each MINI TIPI product comes with a card identifying the designer — who gets a royalty of sales — and a bit about them and the teachings that inspire them.
Half Moon Woman (Pat Bruderer), a member of Peter Ballantyne Cree Nation, honours bees and water as the basis for all life with a design inspired by the unique art of biting patterns into folded birch bark.
"Creating a conversation, that's really what we try to do with out business," Pitura said. "Teaching about culture through designs and beautiful products.
"Anyone can wear it and enjoy it and use it."
MINI TIPI's wares are sold online at minitipi.ca and at 70 stores in Canada and a few in the U.S.
Local stockists range from Beaded Dreams at 426 Bank St. — it's been open since 1994 with a mission to "support Indigenous artists and to keep this beautiful culture alive" — to the National Gallery of Canada.
Article content
Mādahòkì Farm
Indigenous Experiences' Mādahòkì Farm (4420 West Hunt Club Rd.) opened on Ottawa's Greenbelt in 2021 and is now the go-to venue for seasonal festivals including Pibòn — winter — but also on offer is an Indigenous makers market. Hours this month are Thursday to Sunday 11 a.m.-6 p.m. and around-the-clock online, where they also offer gift cards.
Find creations from more than 40 local and national makers — artwork, jewelry, home décor, accessories and more — including grads of an Indigenous makers masterclass that draws learners from across Ontario.
Adàwàning
Check out the Indigenous Women's Art Market at the National Arts Centre Dec. 16-17 featuring the work of Métis, Inuit and First Nations makers.
Article content
Find jewelry, beadwork, paintings, sculptures, mittens, moccasins, coffee, crafts and more. Hours are 4:00-9:30 p.m. on Dec. 16 and 10 a.m. to 3 p.m. on Dec. 17.
Indigenous Experience's Mādahòkì Farm in Ottawa sharing new federal cash for woman-owned tourism businesses

https://ottawacitizen.com/news/local-news/indigenous-experiences-madahoki-farm-in-ottawa-sharing-new-federal-cash-for-woman-owned-tourism-businesses
Want to stay in the know about what's happening in Ottawa? Sign up for the Ottawa Citizen's arts and life newsletter — Ottawa, Out of Office — our weekly guide to eating, listening, reading, watching, playing, hanging, learning and living well in the capital.

link