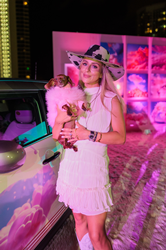 "I was delighted to be a part of this unique event created to benefit such a worthy cause," Lola Sanchez said. "Reimagining machinery as a blank canvas to create something that inspires me and helps others is something I immediately connected to. I'm delighted by the reception."

FORT LAUDERDALE, Fla. (PRWEB)
December 22, 2022
Miami-based artist, creative and author Lola Sanchez, the co-founder of Oliver Gal Artist Co., created a captivating and interactive cotton candy dreamscape for Braman Miami's annual Rooftop Art Basel charity event last month. The unique cars turned art affair served as the centerpiece for a fundraiser for The Michael Fux Foundation to benefit ill and underprivileged children worldwide.
Sanchez, also the Chief Creative Officer for Oliver Gal, was one of seven sought-after artists paired with a luxury vehicle donated by the Braman dealership. Each contributed to a fully immersive art experience that delighted and intrigued.
"Cotton Candy Dream" included 12 handmade, one of a kind art pieces flanked by a large digital screen that drew in guests and created a technicolor backdrop for an inviting and interactive escape. Whispy clouds and dreamlike scenescapes were the focal point for Sanchez's works which were captured on canvas, embellished with hand paint, glitter and diamond dust, and finished in a luxurious resin glass coat. Selected and inspired pieces will be available for sale in early 2023 via Oliver Gal's website.
The installation married an art-wrapped Mini Cooper with color-coordinated furniture anchored by a fluffy floor feature. Illuminating it all was a dynamic digital display showing off the artist's individual works amid a floating cloud theme. Color, texture, feel and motif dazzled the senses for an unforgettable scenescape. The Art Basel event on Nov. 30th was a success raising funds through a silent auction across the featured artists.
"I was delighted to be a part of this unique event created to benefit such a worthy cause," Sanchez said. "Reimagining machinery as a blank canvas to create something that inspires me and helps others is something I immediately connected to. I'm delighted by the reception."
Sanchez, a well-known fixture in South Florida's creative community, was participating in the fundraising event for the first time.
Learn more about Lola Sanchez here.
About Oliver Gal:

Oliver Gal is a lifestyle brand with a singular mission: to create a happier, more inspired world by creating and manufacturing high-quality, expressive art and home decor. The company was founded by sisters Ana Sanchez-Gal and Lola Sanchez in 2012 when they realized there was no cool museum-quality art available at affordable prices. Searching for the piece that would motivate, decorate, and make you love your decor drove creating the most awarded wall art and home decor brand in America. The growing South Florida-based art and lifestyle brand was created to capture life's most haute moments, avant-garde objects, and splendid lifestyles in art. Oliver Gal's vibrant, high-impact art has been featured in Forbes, Glamour Magazine, People Magazine, Vogue, Architectural Digest, Boston Globe, and LA Times—among other major U.S. and international publications.
To learn more about Oliver Gal, click here.
Share article on social media or email:
link