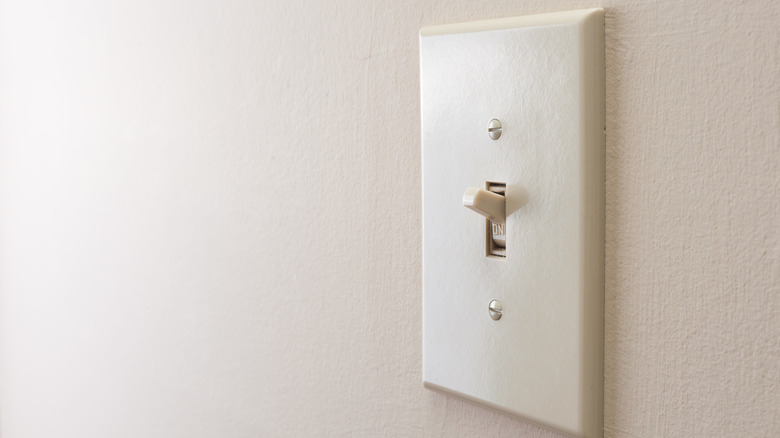 Getupstudio/Getty Images
We may receive a commission on purchases made from links.
Light switch covers are one of the least exciting aspects of your home. If you scroll through the light switch cover section of Lowe's, you'll see a very depressing and lackluster array of options. There's white, off-white, cream, and maybe gray. It's uninspiring and disappointing for those looking to add more color and interest to their home decor. Take matters into your own hands by creating light switch covers that reflect your own style and personality. Decorating light switch covers is a fun and easy DIY project that you can do on your own or involve your kids (via DIY & Crafts)! For most of the projects listed, you can use Mod Podge, a hot glue gun, and affordable products you probably already have. 
If you need more inspiration, scroll through online stores or social media where they sell unique light switch covers, take ideas from what you see, and make your own. 
1. Peruse the fabric aisle
With endless options in the fabric aisle, you're sure to find a color or pattern that perfectly suits your aesthetic. Using fabric and some Mod Podge, you can quickly cover your boring light switches (via Mod Podge).
2. Get creative with clay
You can create scenes or create a fake wooden aesthetic on your light switches for each season using clay. You can use polymer clay which bakes in the oven, and then hot glue it onto the cover or find air-drying clay. 
3. Paint and imagination
With some acrylic paint and imagination, you can decorate your light switch covers with whatever you want. Try a dreamy design for a bedroom, or fun designs inspired by TV shows like "Doctor Who" or your favorite sports teams are a great way to express your personality.
4. Find some frames at the thrift store
You can find really affordable frames at the thrift store. With a hand saw and paint, you can transform them into little frames to put around the light switch covers.
5. Themed wrapping paper
Another affordable option is using wrapping paper. You probably already have some around the house, and it's perfect for seasonal decorating. There's even the opportunity to add some ribbon and a bow! Or you can buy a holiday light switch cover like this one on Amazon. 
6. A little glitter and glue
This might be the most straightforward option on the list. All you need is some glue and glitter. Cover the light switch in glue and sprinkle the glitter on top. You could mix glitter colors or use a stencil to make unique shapes and designs. This one on Amazon uses an ombre effect!
7. Try classy gold leaf
If you want a more simple and elegant design with still a little flare, consider using gold leaf to decorate your light switch cover. You can try a diagonal design or cover the whole thing! If you love the gold idea but are interested in a more intricate design, you might like this one on Amazon. 
8. Knitted or crocheted covers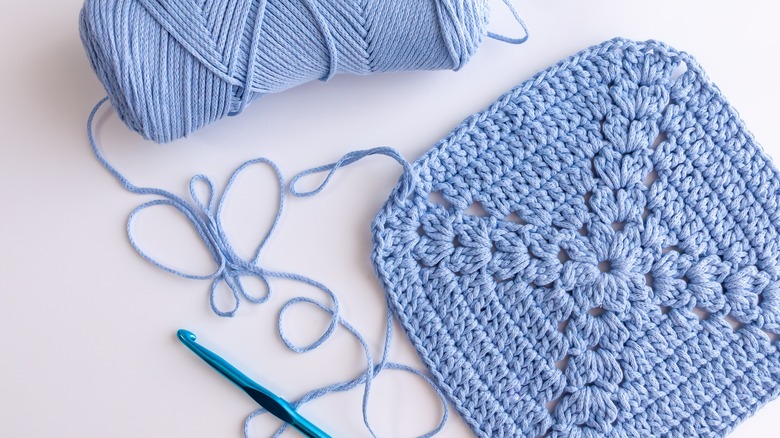 Mykhailovskyi007/Shutterstock
Crocheting and knitting have become more popular over the last few years, so maybe try your hand at this fiber craft by creating a light switch cover with some unique yarn. Although there isn't a pattern to follow, creating a rectangle for the light switch seems easy enough.
9. Ripped lace leggings might still be useful
This skull and lace light switch cover from Amazon has a lot of detail. You can easily make your own some of your grandma's lace curtains hidden in a closet. With some fabric scissors and easy tracing, you can finish this project in just a few minutes.
10. Lego light switches for kids rooms
Legos come in a wide range of colors and can be arranged on a light switch cover in various ways. The random colorful design is classic, or you can choose all the same color or a checkered style. Or, to save time, you could order this one on Amazon. 
11. Use vacation shells as decor
Choose some shells you collected on the beach and attach them to a light switch cover for a unique beach theme. If you don't have any shells, you can easily buy some fake ones.
12. Upcycle old vinyl records
For lovers of music, this is the perfect idea for a light switch cover. You can order this cover on Amazon or find old records at thrift stores and create a real vinyl record light switch cover.
13. Add some rhinestones
A little sparkle in our lives makes even boring light switches more enjoyable. This is another easy craft that involves Mod Podge, rhinestones, and a bit of time. There's an option to use just one color or spice it up and use more.
14. Hydro dipping for marbled looks
Hydro dipping is a type of art where you dip an object into water with a layer of paint on top. This creates a pretty marble effect that can be customized by which colors you choose. Or you can buy a pre-made cover on Amazon.
15. Cover in scrapbook paper
Scrapbook paper comes in a lot of variety, and it's fairly affordable. You can find it in solids, patterns, metallics, glitters, and even textures. There are endless possibilities if you're looking for a very specific look.
16. Paint it to bend in with the wall
Sometimes the simple way is best, and maybe you're more interested in making the light switch cover disappear. Using a primer first, you can use wall paint to match the light switch with the wall. This will make it less noticeable!
17. Car DIY light switch
Have a little human in your life that's obsessed with cars? This car light switch cover is adorable! Paint the switch plate black with a yellow line to make it look like the car is driving on the road when the switch goes up and down. If you're not into DIY, you can just buy this cover on Amazon!
18. Broken plate? Recycle the glass
Dropping a plate and watching it shatter will break your heart, but don't be sad for too long! You can use those broken pieces of glass to create a unique light switch design. If you don't have any broken plates or glass to use, consider this option from Amazon.
19. Use washi tape
Washi tape is a common crafting tool that can easily be applied to light switch covers. You can find it in all sorts of designs, colors, patterns, and widths. Put the washi tape across the light switch cover and fold the edges over to hide them in the back.
20. Make your own covers with wood
If you have wood accents in your décor, you can help make your light switch covers blend into your aesthetic better by making your own out of wood. You can choose different woods and stains to create a specific look, but be sure to test the stain on a small section first.
21. Use up old napkins
Find a paper napkin with a design you love, peel away the bottom layer, and use Mod Podge to adhere it to the light switch cover. It's an affordable and fun craft you could do in just a few minutes!
22. Bring in the nature
Decorate the light switch cover with some green paint and make some happy little trees. It's a relaxing way to spice up the light switch cover while making your space more connected with nature.
23. Recycle tissue paper from a gift
The tissue paper used to fill gift bags is often thrown away; instead, use it to decorate your light switch cover. You can use Mod Podge to stick it to the surface and create a crafty and unique art piece.
24. Candy-themed light switch
This candy-themed light switch cover from Amazon is perfect for a kid's room. Need an excuse to eat your favorite candy? Collect the wrappers and cover your light switch cover with them. You'll have a cute decoration in honor of your favorite snack!
25. Good ole duct tape
There was a trend a while back where teens would cover everything in duct tape. This caused tape brands to produce a variety of colors, styles, and patterns. Use your favorite to create a special light switch cover. It could even be a great project for kids!
26. Create a mini-map on your light switch
For a more antique vibe within your home, you can paste an old map onto the light switch. It's a pretty and unique way to decorate your space, but don't stop at realistic maps; you could even use a fictional map from your favorite stories! These from Amazon are neat too. 
27. Your favorite drink
With metal scissors and a round file, you can cover your light switches with your favorite drink can! Be sure to clean the material thoroughly and work with gloved so the edges of the can don't cut your hands. 
28. Mini watercolor art
Love the watercolor painting hobby? Paint a scene on a canvas or use a product that allows you to watercolor paint on any surface. Or you can buy a rainbow watercolor light switch on Amazon.
29. Use beloved vacation photos
Vacations are some of our favorite memories, and having them in a book or on our phones isn't always enough. Choose your favorite vacation photos, print them out, and use mod podge to adhere them to a light switch cover. Alternatively, you can order customized covers from Amazon and save some time. 
30. Steampunk vibes
For a more involved DIY project, you could try to create your own steampunk light switch covers. It's best to start with brass light switches and old clock parts. You can find these in thrift shops or local junk yards. Use a soldering tool and get creative!
link